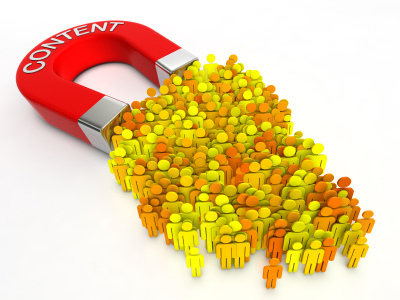 25 June 2015,
Content marketing is a term that refers to things like this article—information presented in some online medium that is relevant to a business and helpful to potential clients.
Content marketing is helpful in two respects:
Content marketing can be used as "link bait" to build incoming links to a website or social media page as the web masters for other websites provide links to your content for the users of their own website. This type of link also helps to build the reputation of your company—which can lead to better search engine rankings over time.
Content marketing also can be used directly to build search engine rankings. For example, I wrote an article in 2010 about "How to Get Rid of Bad Reviews Online." For many years, that article brought visitors to my website from the search engines.
Content is often an article or short posting of some kind. But, it does not have to be something written. Content may be a photograph with a caption. Or a slideshow or video with a description. It also could be an "infographic"—an original graphic image designed to explain visually a process or some kind of knowledge or data.
Generally, content marketing should be considered a long-term strategy. Like building brand awareness, it is a strategy for inoculating your company against the strength of competitors now and in the future. Forbes Magazine has reported that 78% of CMOs say that custom content is the future of marketing. They are investing heavily in content marketing now to ensure that they don't have to play catch-up later.
It is possible to gain leads and sales directly from content marketing, however. Use these tactics, and you can turn what is generally a long-term strategy into new customers and repeat customers in the short-term:
Your content that would be most valuable to potential customers can be offered through many kinds of media as a download requiring contact information. Those who download it become valuable leads for your business.
Creative ways to encourage shares of the content placed on your social media pages can expand your marketing reach. For example, a bike shop could do an article about riding in the mountains, and include in the social media post a suggestion that the reader share it to their wall with a note about the last time they rode in the mountains. Allowing your social media followers to personalize your content in this way is a great way to get it shared—and read by those it is shared with. If those who read it "like" your page or "follow" you, you can continue to market to these new prospects using the same medium. For many local businesses, it is profitable to spend advertising dollars to "promote" a social media page once there is lots of good content there.
Photos and videos created by customers can often build far more interest than those created by your marketing team. So, try launching a contest with a prize for the best photos or videos of people using your product. Then use those to build a following on YouTube, Pinterest, or Instagram. This is a technique that GoPro, the manufacturer of small, mountable digital cameras, has used very effectively to build a subscriber base of more than 3 million on YouTube. Once you see how it works, you have to buy one, right?
Content delivered through email is a good way to keep your business top of mind with past customers. This group can be expected to respond well to a special discount or other offer delivered with your content.
1st Click Consulting offers content marketing services with a monthly retainer—but no contract term. Contact us today for a quote on both a content marketing strategy and content creation for your business.