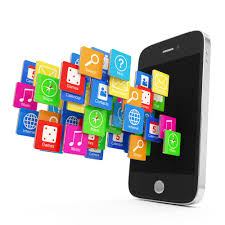 Mobile marketing is the future of online, with a recent survey showing that the average American spends more than 2 hours a day on his or her mobile phone and/or tablet. It goes without saying that every business needs a mobile-responsive website. (A website where design elements adjust automatically for ease of use by mobile devices.) But, some small businesses may be ready to take the next step—a proprietary mobile app. Here are 3 advantages of using a mobile app to market your business:
An App Builds Visibility and Brand Recognition—If a customer has downloaded your app onto their phone, they must scroll past it to get to other apps. That keeps you top of mind with customers and helps you build brand recognition and affinity.
An App is a Direct Marketing Channel—With easy access to an app, your customer also has easy access to all of the information you would like to provide to them—special sales and promotions, contests, new product information, etc. An app can also serve as a means of ongoing customer engagement and a way to build loyalty. No need to pick up a phone—or even locate your website. With an app, customers can ask questions, make reservations, place an order, or request service.
An App Makes You "Cutting Edge"—If you are looking for a way to stand out from the crowd of competitors nipping at your heels and create a sense of being on the leading edge of customer communication, there is no better way than with an app. Because apps are generally associated with large corporations, that is especially true for a smaller business.
Mobile apps won't benefit every business. But they can be a cost-effective marketing tool if they are used with creativity and customer service as their goals.