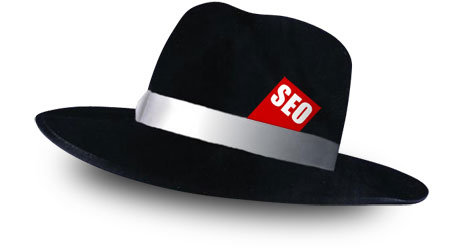 Protect Your Website and Your Wallet from Unscrupulous Swindlers
With almost 15 years in the SEO business, new clients have brought 1st Click Consulting examples of a lot of what gets SEO practitioners a bad name. The truth is, "black hat" SEO can have a much worse effect than just being a waste of money. It can actually harm your business and future ability to achieve good search engine rankings. So, as a business owner, it's important to make good choices when you hire an SEO firm. Here are a few tips to ensure you make a good choice.
My top tip is to avoid like the plague any SEO firm that sends you an unsolicited email. Remember that for more than 10 years, this kind of email spam has been a Federal offense in the US. A company that uses an illegal means of solicitation is not likely to have scruples about anything else.
My second tip is to make sure that you know what techniques the firm you hire is using. Reputable companies will have no reluctance about telling you what they plan to do to build search engine rankings for a website. I have often had clients' websites harmed by actions they didn't know were being used.
Thirdly, ask about subcontractors. Many web developers subcontract their SEO work. Even companies that specialize in SEO sometimes use subcontractors. If the subcontractor is reputable, the firm should be willing to let you speak with the subcontractor directly. Be wary of overseas subcontractors, who often use their anonymity and location to shield themselves from accountability/liability.
What are the most common "black hat" SEO techniques and SEO mistakes? Here are a few that I have seen most commonly:
Spam Links. This is probably the most common "black hat" technique–and the deadliest. Google will penalize a website heavily that has a lot of irrelevant backlinks from worthless websites. This is a common technique used by overseas subcontractors, who set up their own websites and then use those sites to set up links to client websites. It is easy for Google to identify these websites on foreign servers as the source of spam links. But, it's not just foreign subcontractors who will load a website up with worthless incoming links. I have seen "link networks," links built from paid sources like PR websites and links built between all client websites. I have had clients who were forced to start over with a new domain name in order to overcome a search engine ranking penalty for spam links.
Keyword stuffing. This is an old technique that just doesn't work anymore. Keywords can be over-used in titles, page text, footers, etc. Sometimes even in areas of a page that are intentionally hidden from the view of users.
Duplicate content. The search engines dislike duplicate content for the obvious reason—it causes them to have to "spider" more web pages than actually provide additional information. This is very common with sites that set up separate pages for each of their locations—but change nothing other than the company address. I have also seen duplicate content set up on 100s of websites built by SEO firms specializing in one vertical industry or profession.
There are other things that SEO firms do that really aren't "black hat" (they aren't done to gain an advantage in search engine rankings), but they are SEO mistakes. These include:
Content management system settings that actually prevent search engines from indexing a website.
Neglecting to set up redirects from old website pages to URLs used in a new website. This is the fastest way to lose both organic search engine rankings and visitors that in the past have come via links from other websites.
Neglecting to renew a domain. Even if the domain that is lost is not the primary domain for a website, it can lead to confusion if a competitor begins to use it.
Obviously, the best way to avoid these problems is to have a reputable SEO firm on your side. How do you know if the SEO firm ISN'T reputable?
They withhold account logins (for Google, Bing, Facebook, Twitter, YouTube, Yelp, their website's administrative side, etc.) from the client. These are YOUR logins, and you should always know how to use them to access your accounts.
They use only proprietary content management systems in building websites, so it is impossible to move web hosting to other servers, and sometimes web management to others, as well.
They use contracts that stipulate that the SEO firm owns all of their work product. Clients have lost domains, websites and more when they cancelled these contracts.
They suggest that they are doing SEO when they are actually only setting up search ads. Or they suggest that their Google Partner designation (which is certification of a minimal level of expertise in the Google AdWords platform) actually is an "in" with the search engine that will automatically get top rankings for a website.
They over promise results. If the promise is for top rankings for a particular search phrase, that is an over promise. Promises of general improvements in rankings and increases in leads or sales are more reasonable.
It is tempting to hire an SEO firm on the basis of what they promise. That is how people buy most things, after all. You buy the car that promises the best MPG, or fastest time for 0-60 speed. You buy lightbulbs on the basis of the amount of illumination they promise, and TVs for picture quality. These are all measurable promises. SEO is about influencing the search engines using specific techniques. The results, however, cannot be guaranteed specifically.
Hiring an SEO firm should be approached the way you would choose a doctor. Look for someone with experience and tenure in the field. Ask people you know who they use and whether they are satisfied with results. When you have chosen a firm (after doing this kind of research), do not dismiss their recommendations. If they are true SEO professionals, they will be able to explain the logic behind the recommendations they have made.
To get a quote on your SEO project, contact us here. Our proposals are always customized to the level of the client's online business opportunity and competition. That is how we feel we can obtain the best results in terms of new lead generation and sales volume for clients.